Know About Scoliosis in Children and Teens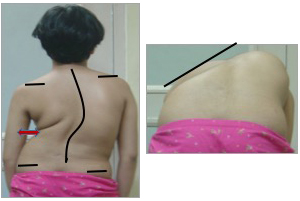 Scoliosis is a condition where the backbone or spine is found to be deformed. It is known to affect adults as well as children. Patients with scoliosis will have their spine curved sideways, generally measuring 10 degrees and sometimes more, chiefly affecting the middle and lower part of the spine.
In contrast to the normal spine, which looks straight, children with scoliosis will have a spine shape in the form of S or C. It is important to note that scoliosis in children may not cause pain. However, children with severe scoliosis may need support in the form of braces or require correction surgery.
If you live in Chennai and are seeking the best spine specialist for the treatment of scoliosis in children and teenagers, consult Dr Vignesh Pushparaj. He is one of the leading, highly qualified and trusted spine doctors in Chennai with a high spine surgery success rate. For more details, contact us today.
What is Scoliosis in Children?
The spine is one of the important parts of the body that develops and grows as children age. Generally, spine growth occurs, giving it a straight shape. However, in some children the spine bends to the side, either left or right, and in some cases, both sides. This condition is known as scoliosis in children.
According to reports, approximately 2 to 3% population in India suffer from scoliosis and many children are affected by the spine condition in the country.
Types of Scoliosis Affecting Children
Infantile Idiopathic Scoliosis
 Infantile idiopathic scoliosis affects children aged 0 to 3.
Juvenile Idiopathic Scoliosis 
 Juvenile idiopathic scoliosis affects children aged 4 to 10.
Adolescent Idiopathic Scoliosis 
Adolescent idiopathic scoliosis is a very common type of scoliosis that affects children aged 11 to 18.
Congenital Scoliosis Occurs 
This type of scoliosis is found in the early stages of life while in the mother's womb where the spine does not develop properly.
This scoliosis type affects children when they experience disorders or diseases of the brain, muscular systems as well as spine.
Signs of Scoliosis in Children
As scoliosis in children causes no pain, many of the symptoms are overlooked or go unnoticed. Few of the possible signs that parents can keep an eye on include:
Uneven shoulders and blades of the shoulder
Unequal leg length
Leaning tendency to one side
Uneven or elevated hips
Uneven waits
Ribs may seem to stick out
Muscles may seem to bulge on one side of the spine
Uneven skin folds
If you notice any of the signs mentioned in your children, seek an appointment with a spine specialist urgently to rule out any possible scoliosis problem.
What Causes Scoliosis in Children?
If you notice most of the scoliosis types have idiopathic in their name, which means that the factors that cause this condition are yet unknown. It can affect infants or children as they grow. It is essential to note that girls are affected more than boys.
Diagnosis
When you first meet the doctor, the first step of diagnosis will include understanding the medical and family history of the child. This will be followed by a physical examination to better analyse the severity of the condition. Initial diagnosis can be carried out by performing a few physical tests like the forward bend test and the plumb line test.
A scoliometer will be used to measure the size of the rib hump if found. In addition, the length of the legs is determined as well.
Your doctor may suggest a few imaging tests such as X-rays, MRI and CT scan to investigate and measure the spinal curvature degree, assess body structure and find appropriate and customized treatment solution.
Scoliosis Treatment in Children
Your doctor will devise the right scoliosis treatment for children after understanding the causes and severity of the condition. There are generally three treatment approaches taken by doctors namely; Observation, Bracing and Surgery.
Children may need to see the spine doctor every 4 to 6 months as recommended to monitor the curve of the spine. If the curvature of the spine is found to be progressing, treatment may be necessary. Generally, this approach is advised when the curvature degree is less than 25 degrees.
Spinal bracing is another method by which deformity or curvature of the spine can be managed or prevented. Bracing may be required for some time. Treatment for Mild Scoliosis in children would include observation and bracing. Finally, in case of advanced scoliosis or when the curvature measures more than 45 degrees, doctors may recommend surgery.
Best Scoliosis Correction Surgeon in Chennai
Dr Vignesh Pushparaj is one of the best spine specialists in Chennai, with many years of experience in treating spine disorders. He has treated a large number of patients with scoliosis successfully. For more details, contact us today