Best Spine Surgeons in Chennai
Spine disorder is one of the most common health problems affecting millions of people globally. It can range from simple low back pain, neck pain and disc prolapse to serious conditions such as spine fracture, spinal cord tumours, spine cancer, tuberculosis spine and scoliosis.
It is important to get the best spine treatment as soon as possible because delays in the diagnosis of symptoms and the consequent treatment can drastically impact the outcome.
If you are facing spine-related issues in Chennai or the surrounding region, consult with the leading spine doctor in Chennai, Dr. Vignesh Pushparaj today.
Best Spine Surgery Hospital in Chennai, India
As per 2010 data published in The Lancet, low back and neck pain accounts for approximately 70% of the total 166 million years lived with disability – YLDs. The numbers are staggering, to say the least. Moreover, it is one of the leading causes of disability among patients, which causes social and economic problems in society. Experts also suggest that a high percentage of men and women, irrespective of age, experience spine issues such as back pain at least once in a lifetime.
Back pain is the second most common problem after cold for hospital / doctors visit.
According to a 2013 World Health Organization report more than two lakh to five lakh people suffer a spinal cord injury every year. It can mean damage to the spinal cord due to trauma or diseases such as cancer. The report also states that males are more prone to spinal injuries compared to women.
In India, the situation is grim as well. More than two lakh cases of spinal injuries are reported every year, 30,000 of which are spinal cord injuries and paralysis, caused by accidents on the road, at the workplace and sometimes sports. This is the reason why the best spine surgeons/doctors in Chennai are highly required.
Importance of Spine Health
The spine constituting of bones, nerves, discs and the spinal cord supports the whole body and assists you in performing different functions such as walking, bending, sitting, moving and twisting. It is made possible because the spine is also a major support structure that connects various parts of the musculoskeletal system. Injuries, diseases and other conditions can disrupt the smooth functioning of the spine, leading to painful health problems, limiting movement and causing disability.
Therefore, do not take even the small spine discomfort lightly. Always consult the best spine specialist in Chennai.
Causes of Spine Disorders
In India, lifestyle changes are one of the major contributors to spine-related disorders and conditions. The sedentary lifestyle, lack of exercise, poor food habits and rising obesity, especially among those living in cities like Chennai and other metro cities, cause back pain, neck pain and other spine ailments. It has also been observed that spine problems are not limited to old age.
It is now affecting children and adults, who spend a large amount of time in the sitting position daily. If you are a resident of Chennai/ Tamil nadu, you can always get the help of the best spine surgeon in Chennai, Dr. Vignesh Pushparaj.
Back & Neck Pain
It can be prevented by adequate hydration, routine core strengthening and by maintaining the ergonomic posture.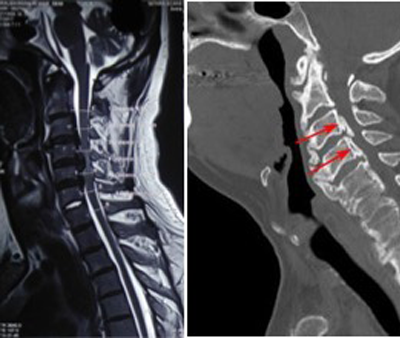 Cervical Spondylosis
Cervical spondylosis is the most common type of progressive disorder that affects the neck during aging.
Scoliosis
It is common in female children, it can be corrected safely with present scientific advances and our surgical expertise.
Spine Fracture
Spine fractures are more serious than the fracture of extremities. It needs emergency attention because these fractures can damage the spinal cord.
Microlumbar Disccectomy / Tubular Disccectomy
Injection Procedures in Spine
Selective Nerve Root Block (SNRB) in lowback is given to relieve radiating leg pain along the course of a particular nerve which had got pinched due to prolapsed disc.
Osteoporotic Fracture
It is common in postmenopausal and geriatric population. Can be treated with day care/ percutaneous procedures.
Spine Tumour
Tumor spread to spine needs intervention to maintain the quality of life than tumor curative treatment.
Some other causes of spinal problems may include the following:
Accidental falls
Infection
Nerve Injury
Birth Defects
Traumatic spine Injury
Ageing
Autoimmune diseases
Vitamin Deficiency
Some health conditions that can cause spinal disorders are:
Spinal infection
Disc prolpase
Spondylosis
Spinal cord Tumour
Spine Cancer
Many of the conditions mentioned may require consultation, life style changes, physiotherapy exercises. Very few need intervention treatment such as injections and surgery. You can contact us at any time for successful spine treatment/spine surgery in Chennai.
Spine Problem Symptoms
Some of the most common symptoms that may accompany spine problems are listed. However, you must always consult specialist spine doctors in Chennai for the best treatment and results.
Neck pain
Pins and needles ,
Burning in back and neck
Bladder dysfunction – urinary incontinence, frequent urination
Pain radiating towards arms or legs
Limb paralysis
Numbness
Tingling sensation in arms or legs
Looking for the Best Spine Treatment Doctor in Chennai?
Given the rising number of spine disorder cases everywhere in India and also in Chennai, many specialists and doctors are handling a large number of patients every day. Different treatment approaches that include medicines, therapy sessions and surgery are used by spine doctors. However, it can be a daunting task for patients to choose the best spine and pain specialists in Chennai.
So, how can you make the decision of choosing the best spine doctor in India?
First of all, it is important to seek the medical help from doctors who have many years of experience in the field. Secondly, the doctor that you visit should be highly qualified. If the concerned doctor has national and international learning experience, the treatment approach will be modern and up to date. Also, you should seek best spine doctors according to your medical needs.
For example if you need a surgery always meet best orthopaedic spine surgeons in Chennai who have used latest successful techniques for operating procedures. Finally, you can do your research finding the available treatment services, patient testimonials and success stories about surgeries performed by the doctor in and around Chennai. In this way you can find the top spine surgeon in Chennai.
If you are experiencing any of the symptoms mentioned, consult Dr. Vignesh Pushparaj today! He is one of the trusted and best spine surgeons in Chennai. 
Dr. Vignesh has done his M.B.B.S and Post-Graduation in Orthopaedics from Rajah Muthiah Medical College. In addition, he has also completed AOSpine(Asia- Pacific) long-time fellowship at Park Clinic Kolkata, fellowships (Paediatric spine deformity) offered by the International Society for Spine Centres (ISOC) at Sint Maartenskliniek, Netherlands and Adult complex spine surgery by Indo-American Spine Alliance (IASA) at the University of Michigan, USA.
With more than a decade of experience in the medical field, he is highly capable of providing you with the best treatment for spine problems. Contact us today!
Here's a Helpful list of tips for a fast recovery after spine surgery:
Follow Post-operative Instructions: Adhere to your surgeon's instructions regarding medications, wound care, and physical activity restrictions.
Manage Pain: Take prescribed pain medications as directed to ensure comfort and facilitate movement.
Stay Active: Engage in gentle movement and walking as soon as your surgeon permits. Gradually increase activity levels as tolerated.
Attend Physical Therapy: Participate in a structured physical therapy program to strengthen your spine and regain mobility. Follow the prescribed exercises and stretches.
Practice Good Posture: Maintain proper posture during daily activities to minimize strain on your spine. Use ergonomic tools or assistive devices if necessary.
Eat a Nutritious Diet: Consume a balanced diet rich in vitamins, minerals, and protein to support healing and strengthen bones.
Stay Hydrated: Drink an adequate amount of water each day to promote tissue repair and overall well-being.
Quit Smoking: If you smoke, consider quitting or reducing smoking as it can impede the healing process.
Create a Supportive Environment: Arrange your living space to accommodate your needs during recovery. Remove tripping hazards and ensure essential supplies are within easy reach.
Seek Emotional Support: Reach out to loved ones or support groups to express any concerns or emotions you may have during the recovery process.
Be Patient and Positive: Understand that recovery takes time and varies for each individual. Celebrate small milestones and maintain a positive mindset throughout your journey.
With access to 24-hour emergency assistance.
Your wellness is our focus. We aim to provide safe, high-quality, cost-effective and state-of -the-art, operative and non-operative management for spinal disorders.