How to Find Right Spine Specialists Surgeons in Chennai
Back and spine disorders and their related pain are common, and most often these health conditions do not require surgery. But many times, spine problems can become chronic leading to physical disability. If you consult any of the top 5 spine surgeons in Chennai, they would first recommend a more traditional spine treatment option. It would include physical therapy, anti-inflammatory medicines, lifestyle modifications, posture correction, etc. However, when the non-surgical options exhaust/ if the patient does not respond to any of the mentioned medical treatment procedures, spine surgery is discussed as an option.
At this point, it is important to note that the medical community across the globe believes that a complete cure or success is not guaranteed even with the help of the best spine surgeons in many patients who don't accept lifestyle changes and posture correction.
Finding the Best among the Top 5 Spine surgeons in Chennai
If you look out for spine specialists in Chennai, you may come across
the top 5 spine surgeons in Chennai
very easily. However, making the final choice can become a daunting task.
Here is the list of Top 5 Spine surgeons in Chennai, India
Dr. S. Karunakaran-
(M.B.B.S, M.S, D.N.B Director)
Dr S. Karunakaran has an overall experience of 25 years and is currently working as an Associate Professor of Spine Surgery. He has pioneered percutaneous endoscopic lumbar discectomy under local anaesthesia for disc prolapse. He is the first in South India to have used INSPACE-interspinous implant for lumbar canal stenosis-Keyhole spine surgery local anaesthesia. He has performed more than 1000 spine surgeries-scoliosis, cervical spine pathologies, thoracotomies, laparotomy, disc replacement surgeries. He has presented various papers. He is also an esteemed member of Tamil Nadu Orthopedic Association, Association of south Indian states, Association of Spine Surgeons of India, and Asian Academy of Minimally Invasive Spinal Surgery
                                                                                                                                                                                                         Dr. Parthasarathy Srinivasan
                                                                                               (Sr. Consultant- Orthopaedics & Spine Surgery)
Dr. Parthasarathy Srinivasan is a National Board-certified spine surgeon. He is also the first and the senior-most FNB trained spine surgeon in Chennai. He has more than 10 years of experience in spine surgery with over 1000 surgeries under his bucket. He is currently a National faculty in both AO Spine and the Association of Spine Surgeons of India (ASSI) and is regularly part of spine training programs in the country. He is the author of invited review articles on spine trauma for the Indian spine journal as well as chapters in the ASSI monograms (a series of concise textbooks for the practicing spine surgeons). He is a reviewer for spine-related articles in the Indian Journal of Orthopaedics (IJO) and the Indian Spine Journal (ISJ). He is also interested in endurance running and triathlons.
Dr.Venkatesh Krishnan
(MBBS, Dortho, DNB ortho, MNAMS)
Department of Spine Surgery, Christian Medical College, Vellore.
After finishing medical school in 1995, I joined for my Orthopaedic residency in 1996 and completed it in 2001. Joined as a consultant at Christian Medical College in 2002. Skills and Expertise- tuberculosis spine, Scoliosis surgery, Spinal cord injury, Back pain management, and Spine infection management. Have published more than 50 articles in peer-reviewed national and international journals.
Dr. Ravi Venkatesan
(Consultant Spine Surgeon, MBBS, D.Ortho, DNB)
Dr. Ravi Venkatesan is a Spine Surgeon with experience of 20+ years in the field. He is a member of the Tamil Nadu Medical Council, Tamil Nadu Orthopedics Association, and Association of Spine Surgeon of India. He won the Gold Medalist from CMC, Vellore for undertaking a minimally invasive surgery done for the first time in South India. He mastered in various fields such as Minimally Invasive spine Surgery, Spinal Deformity correction, Spinal Tumour surgery, etc. Dr. Venkatesan also has written for a number of publications in international journals, Journal of Bone and Joint Surgery, the Canadian Journal of Orthopedics, and the Canadian Journal of Traumatology.
Dr. Vignesh Pushparaj
(Orthopaedic Spine Surgeon)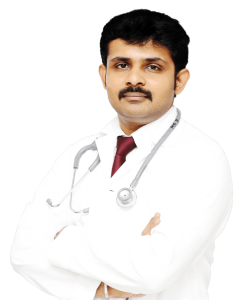 He received his primary medical qualification M.B.B.S from the Rajah Muthiah Medical College. He further completed his post-graduation in the field of Orthopaedics from the same institution.
Post this, he had completed the AOSpine(Asia- pacific) long-time fellowship at Park Clinic Kolkata
,
fellowships (Paediatric spine deformity) offered by the International Society for Spine Centres (ISOC) at Sint Maartenskliniek, Netherlands, and Adult complex spine surgery by Indo American Spine Alliance(IASA) at the University of Michigan, USA. Along with this he had got training in chronic pain management also.
He has also been actively involved in various academic activities throughout his career. He has engaged in several CME programs about intraspinal anomalies, split cord malformations, spinal deformities, high-grade spondylolisthesis, and acute back neck pain management. He is one among the few Fellowship-trained spine surgeon, who had got training under both Orthopaedic and Neurosurgeon.
We have enlisted 7 tips to find the best among the top 5 spine surgeons in Chennai.
Expertise
Spine surgery is a complicated procedure, and therefore the spine surgeon must have enough expertise in the field. He should be well updated with the recent/ treatment technologies in spine treatment. You can always find out the complete profile, expertise, and qualification of the spine doctor or surgeon on their website or online. Else, you should contact the concerned and inquire about their expertise before making the choice.
Experience
Besides expertise, a leading and trusted spine surgeon in Chennai will have many years of experience in performing difficult surgeries. A specialist with a strong record of spine surgeries and the one that you require must be looked into for your case. Again, you can easily find about the experience through different sources available online as well as offline.
Communication
Extensive communication back and forth between the spine surgeon and the patient is always helpful. He or she should be able to decode all the procedures, processes, success rate, risks, other details in simple language to the patient. It will ease your burdens as well, and you will feel more confident and relaxed going for the surgery.
Case Reviews
With the growing importance of news, online reviews, and testimonials, you should be able to easily find their patient case reviews. It showcases the ability of the spine surgeon and throws some light on their credentials.
Location
Another important aspect of finding the best spine specialist is the location. If you are living in Chennai, choosing a surgeon in Chennai is the best option as it will involve less traveling, better convenience, and options for post-surgery care.
Word of Mouth
Word of mouth is still the best possible way to choose the right spine surgeon in Chennai. Good doctors, surgeons, and healthcare professionals often make their name through word of mouth. Listening and seeking such information in your area can help you make the best decision.
Meeting
Finally, you can meet one of the top 5 spine surgeons in Chennai and find out about their skills, expertise, and other characteristics. Sharing a good rapport with the surgeon is always the best start for your spine-related treatment and surgery.
These are some of the ways you can choose the best among the top 5 spine surgeons in Chennai. Of course, it may take some time, but finding the right answers will help you a lot. Moreover, it will make the whole treatment procedure stress-free. Dr. Vignesh Pushparaj is one of the top 5 spine surgeons in Chennai with high qualifications and extensive experience. For complete details about his expertise and work, contact us at any time.